I made my first iPad stand several years ago for my wife and it's probably the one gift that she continues to use on a daily basis. The design was to appear to be a well used antique breadboard from the Gatineau Hills and that it was repurposed as an iPad stand. The fact of the matter is that she also uses it to hold everything from small cookbooks, her iPhone, recipe cards, and 8.5×11 notes.
The Classic iPad Stand
Since then there has been much interest and we now have quite the selection including a maple leaf, a shamrock, a heart, a paddle, and of course, the original Fleur-de-lis, filling out the Classic iPad stand family.
The stands are made from poplar hardwood and have a natural two-tone milk paint finish that is distressed to reflect a timeless but well-used character. We then apply two coats of non-toxic beeswax top coat to protect the finish.
Each iPad stand is approximately 18" [ 46 cm ] high, 7" [ 18cm ] wide and 5 1/2" [ 14cm ] deep at the base with a shelf that is approximately 1" [2.5 cm ] deep.
Coloured base coats can be customized at no additional cost but will require a lead time of 1-2 weeks. Please see below our newest product, the Traditional iPad stand.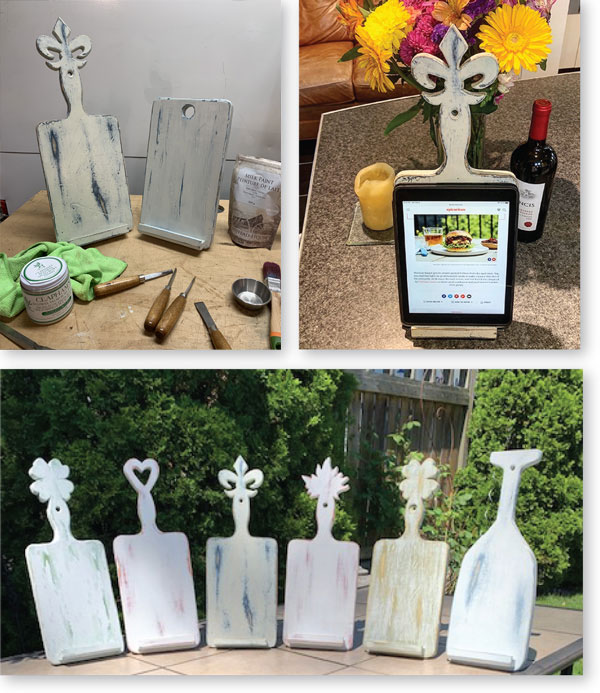 The Traditional iPad Stand
Our newest format is less ornate and its smaller shape makes it look more like a traditional breadboard. Although the shape is quite simple, the variety of finishes are more elaborate. This new shorter iPad stand is available in the same assortment of milk paint finishes as our Classic iPad stands; blue, red, and green base coats, as well as natural oil-finished oak, maple, and cherry. All of these options come at a lower price point than the larger Classic iPad stand.
Each of our Traditional iPad stands is approximately 12" [ 30 cm ] high, 7" [ 18cm ] wide and 5 1/2" [ 14cm ] deep at the base, with a shelf that is approximately 1" [ 2.5 cm ] deep.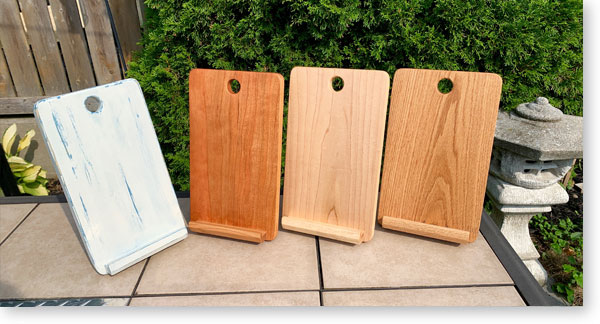 We were inspired through our love of cooking and wine to design and create a unique piece that we call the Bento Board. We wanted our boards to be both functional and thoughtful in design. The challenge with many charcuterie boards is that it can be difficult to maintain placement of the food. And when preparing meat, the juice groove is either overflowing or you're tipping it; pouring the juice into a measuring cup or the sink.
Our design aimed to eliminate these issues by adding a divided section and a drain. We located the rubber feet on our boards specifically to allow the board to cantilever over the sink so that the juice groove could drain during use. Additionally, if your intent is to save the juice, we've sized the hole to accept a common wine cork.
Our new boards come in a verity of sizes and in two different thicknesses and as always, we're happy to price and fulfill custom orders.
PS. You will have to supply your own cork!