These all-wood Tech-Stands are designed to unclutter your desktop and to protect your Laptop, iPad, Smart Phone, CD drive, etc. while providing access for charging and cables.
These stands come in maple, cherry, red oak and poplar, and are sealed in shellac or a hand-polished Danish oil finish.
Each Tech-Stand is a handmade, and unique.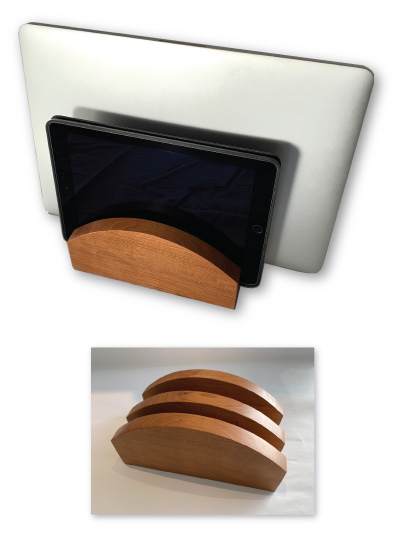 We have designed a series of personal technology stands that incorporate a unique combination of materials. The Executive was originally designed as a Christmas gift for a friend. The hardwood is solid cherry wood boards, laminated to create a thickness of 1-1/2". The board is routed to take different sizes of aluminum channel that accommodate the thicknesses of various technology such as Laptops, i-Pads, Smart Phones, etc.
The satin-finished aluminum channels have a rubber coating to protect your equipment and the wood is sealed with five hand-polished coats of Danish oil.
The Executive Tech Stand can be made in cherry, red oak, walnut, or maple and is made to order, so that each one is unique and suited to individual needs.
Please contact us for your custom order and pricing.